Dear fellow bankruptcy filer,
I know how you feel. I filed bankruptcy too...and it turned out to be the best decision I ever made. It can be the same for you.
Bad Things Happen to Good People
I'm not sure what led to your bankruptcy. Most people who file bankruptcy are honest, hard working folks who got caught up in bad circumstances. In my case, I lost my job and had no safety net. I was so broke, I had to borrow money from my parents to file bankruptcy. The day I sat in front of the judge during my meeting of creditors was the most humiliating day of my life! I just wanted to get out of there as fast as possible. I felt like a failure.
After I filed I was embarrassed to apply for credit, because I thought I would just get denied. Or if I did get approved, it would be at a ridiculously high interest rate through a loan shark lender. The stigma of bankruptcy followed me everywhere. I thought I would be stuck paying cash for the rest of my life.
I didn't know what to do, where to begin, or whose advice to follow to start my recovery.
I Was Told All the Same Lies About Bankruptcy
I was told by loan officers, car dealers, mortgage brokers, realtors, my attorney, close friends, and even a few family members that my credit would be ruined for 7 to 10 years...if I ever wanted to buy a car, it would be at high interest through predatory lenders like AmeriCredit or CRAPital One...I would never be approved for low-interest credit cards with a high credit limit again...and pigs would fly before I got approved for a mortgage.
But Then an Amazing Thing Happened...
I DECIDED NOT TO BELIEVE "THEM"
That decision changed everything. I soon bought a new car (at 2.9% interest)... qualified for a mortgage on a beautiful home (at a single-digit interest rate with very little money down)...got approved for two Visa credit cards with normal interest rates (the same low interest as someone who never filed bankruptcy)...and even qualified for low interest personal and business loans.
Before I knew it, I rebuilt my credit in less than a year. Then, my friends and family (who told me it couldn't be done) began asking me how I did it! Even my bankruptcy attorney was shocked how quickly I recovered.
The Truth is...
You CAN Quickly Rebuild Your Credit After Bankruptcy—
Much Faster Than You've Been Told
Here's how I did it...first of all, I didn't listen to my bankruptcy attorney. He never bothered to tell me how to recover. Odds are, your bankruptcy attorney never filed bankruptcy...doesn't know what you're going through...and probably doesn't care. After I paid my bankruptcy attorney, he stopped returning my calls.
With no one to help me, I realized I was on my own. So I started researching everything I could get my hands on about bankruptcy, credit, and credit scores. I was stunned to discover most of the bankruptcy recovery advice available was from people who never filed bankruptcy! Something didn't seem right. I began interrogating lenders. I was determined to get approved for credit at low interest rates. I wouldn't take no for an answer. Using this approach, it took me a little less than a year to recover, and that was with making many mistakes along the way.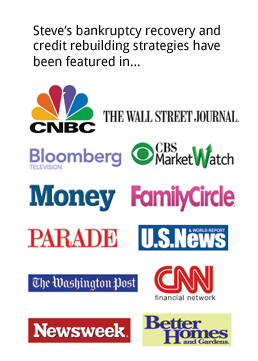 Over the next few years I systemized my recovery process, and refined it into a system anyone could easily follow to recover from bankruptcy—even in today's strict lending environment.
Then I Wrote the Book
After I overcame bankruptcy, I wrote a book (my first one ever), titled Credit After Bankruptcy, where I revealed the basics of my quick recovery system. With nearly 500,000 copies sold, it's the best-selling bankruptcy recovery book ever written. However, because printed books go out of date fast, I created a better solution for you...one that is guaranteed to be up-to-date...
Introducing...How to Quickly
Rebuild Your Credit After Bankruptcy™
Shortly after I wrote the book, I established a nonprofit foundation and made it my life's mission to help people just like you...because I know how difficult it can be to recover on your own. The foundation allows me to present How to Quickly Rebuild Your Credit After Bankruptcy free throughout the country to help those who've filed bankruptcy get vital information needed to recover quickly. Those who watch the video receive the vital information necessary to rebuild their credit and their lives. To date, 243,883 people who filed bankruptcy have watched and learned the truth about how to quickly recover from bankruptcy.
Is it Really Free?
What's The Catch?
How to Quickly Rebuild Your Credit After Bankruptcy is absolutely FREE for you to watch. You don't pay a penny. There are no strings attached. There is no "catch." It's free to you because it's fully funded and underwritten by reputable organizations who are committed to helping you recover from your bankruptcy—the right way. In addition...you'll get advice and first-hand information from credit scoring experts, bankers, a credit card lender, and mortgage professionals with the latest insider information to help you recover from your bankruptcy faster. And don't worry...you won't be pressured into buying anything. You can even leave your checkbook in your pocket.
Get Your Credit Questions Answered
Before How to Quickly Rebuild Your Credit After Bankruptcy you'll have the opportunity to email me and ask any question about rebuilding your credit. Stick around to the end, and I'll give you a special email address to ask me any question about bankruptcy or credit. I will personally email you an answer to your question.
1,728,323 People Filed Bankruptcy in in the U.S. Last Year
Are You Going to Recover Fast...or Suffer with Bad Credit
for 10 Long Years?
You don't have to live with the stigma of bankruptcy any longer. During How to Quickly Rebuild Your Credit After Bankruptcy you'll discover how you can own a home (or refinance your existing home) with a low interest rate...buy a new car with a single-digit interest rate with little money down...apply and get approved for low-interest credit cards with high credit limits...increase your credit scores (even while your bankruptcy remains on your credit report)...and have lenders start offering you the same low interest rates as someone who never filed bankruptcy.
I did it...tens of thousands of previous attendees did it...and you can too.
The day after the presentation you can still be sitting at home worrying about how to recover from bankruptcy—or you can finally know how to begin rebuilding your credit, and enjoy life once again. I hope you join me.
Sincerely and Enthusiastically,

Steve Snyder
Bankruptcy Discharged August 18, 1993